Comp Plan Outreach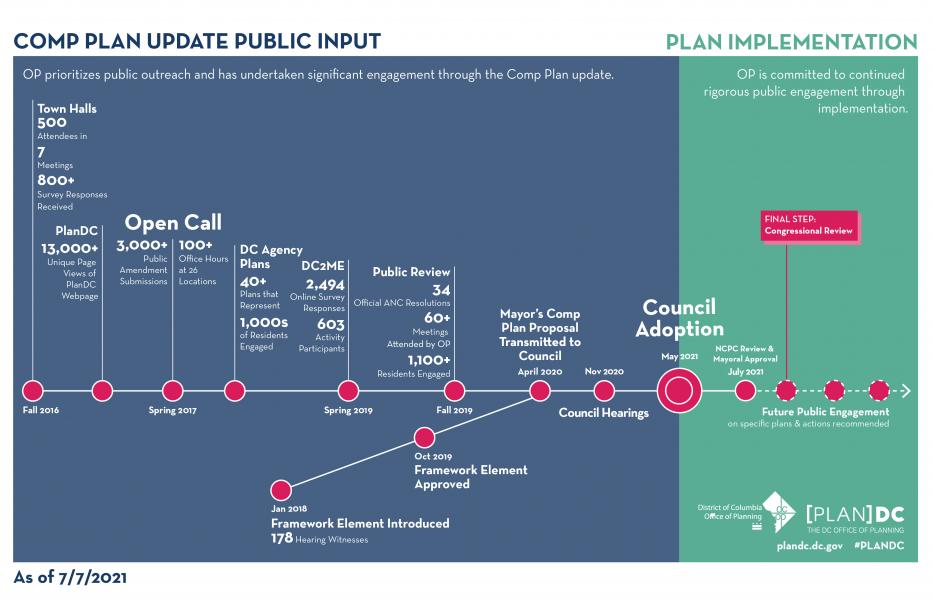 Public Review
Public Review launched on October 15, 2019. The public had until Friday, January 10, 2020 to review the Comprehensive Plan Draft Update. In addition, OP accepted feedback from ANCs through Friday, February 14, 2020. We want to thank residents for their partciation and coordination with their ANC. Below is a graphic that described the process beginning in October with the legisative package being prepared in March for submission to Council.
Comp Plan Ward Meetings Recap
The Office of Planning hosted a series of eight community meetings to present and discuss the Mayor's Draft Comprehensive Plan Update.
Overview Documents
DC2ME 2019
After hearing and learning from the voices of DC residents, we are designing an amended Comp Plan by and for all DC residents. We translated the ideas posed by the DC community during the Comp Plan engagement process into eight tangible values. These values will guide our decision-making as we move ahead and help to determine what issues to prioritize through the amended Comp Plan.
During the Comp Plan amendment process, we received feedback from the public and District agency partners. We took what we heard and summarized it by element.
Open Call 2017
During the 2017 Open Call, OP received over 3,000 proposals. Click the links below to review those proposals.
Email Updates